Soroptimist International of Greater North Kitsap (SIGNK)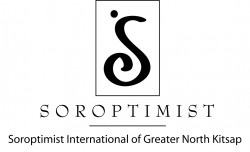 "Women Helping Women … and Girls" The mission of Soroptimists is to improve the lives of women and girls through programs leading to social and economic empowerment – in their local communities and beyond. Why women and girls? It's true that living in poverty, facing discrimination and overcoming obstacles can affect both men and women. However, throughout history, in every country in the world, women and girls have faced additional obstacles and discrimination solely based on gender. "Soroptimist" means "best for women" and we strive to be an organization of women at their best, helping other women to be their best.
LIVE YOUR DREAM Winner sums it up: I am a single mother of 3 young boys in Poulsbo. I grew up in a poverty household. From high school graduation, I earned a scholarship to become a flight attendant. Everything changed on 9/11. I chose to switch careers to become a wife and mother. When physical and emotional abuse started after the birth of two more sons, it was time to leave and start our lives over. I clung to faith and was motivated to provide for my children. I currently work full time as a Pre-K teacher and I am a Full Time student at Olympic College, participating in the Early Achievers program. I am working on completing my teaching degree with my end goal to work as a K-3 teacher in a private school. I hold a 3.84 GPA. My current mission in life is to rebuild a stronger, healthier, more meaningful life for myself and my children. We were created for so much more. Thanks to Soroptimist, I can continue to pursue my dreams and goals.
Women who are head of households in Kitsap County today have even more challenges than in the past. Costs of living are skyrocketing at unprecedented rates for the new daily necessity of cell phones and other technology, in addition to providing food and shelter for their families. For many women, the thought of furthering their education can seem like an impossible goal with little hope. Soroptimists strive to change that. The Soroptimist LIVE YOUR DREAM Education and Training Awards are a significant tool for women who are head of households and accepted or enrolled in college. Women who are able to further their education have an increased opportunity to improve their financial standing and futures. Funding from the Kitsap Great Give will allow NK Soroptimists to help even more women and girls in our community by funding more individual and organizational grants, as well as scholarships and more awards to women and girls to further their educational goals and live their dreams
PO Box 1594
Poulsbo, WA 98370