Bainbridge Chorale
Gifts
Amount Raised

of

Matching Funds

Remaining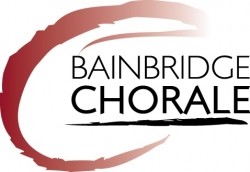 The Bainbridge Chorale is an umbrella organization which serves 80 to 90 adult singers from around the greater Kitsap area as well as 40 youth members of the Olympic Girls' Choir. Our organization provides opportunities for the community to come together, either to listen to our concerts or to participate in public singing events like the annual Messiah Sing-along and the Bainbridge Sings summer music-reading sessions. Our mission is to enrich and inspire our singers, audiences, and community by sharing the transcendent power of choral music.
During the past year, in keeping with our continuing focus on youth choral education, we were able to accommodate increasing enrollment in our youth program, the Olympic Girls' Choir. The choir now comprises two ensembles, one non-auditioned group for girls aged 8 to 10, as well as an auditioned, performance-oriented choir for girls ages 10 to 14. We have also been able to hire an accompanist for the girls' choir, relieving Director Laura Milleson of that task and allowing her to focus on vocal instruction. We are delighted that both ensembles are thriving under her direction. We are also committed to collaborating with other arts organizations, and will this spring join forces with the Bainbridge Symphony Orchestra in presenting the choral-orchestral masterwork, Carmina Burana, which will involve approximately 180 musicians: adult and youth singers, professional soloists and musicians. Based on the success of our previous collaboration with the Bainbridge Orchestra in 2014, we expect that the event will draw record audiences.
Funding from the Kitsap Great Give will help the Bainbridge Chorale fulfill its mission of enriching our entire community, young and old, by continuing to provide opportunities to listen to, learn about, and participate in choral music. An example of a major project that is made possible by support from the Kitsap Great Give, among other sources, is the upcoming repeat of a presentation of choral-orchestral masterwork in collaboration with the Bainbridge Symphony Orchestra.
PO Box 10572
Bainbridge Island, WA 98110